L'Occitane En Provence Oud & Rose – New Fragrance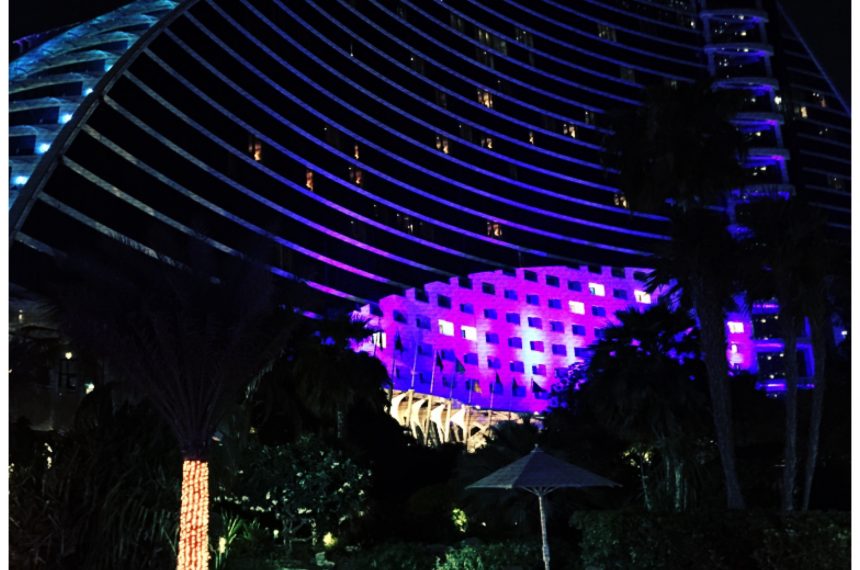 Its time to put on those Styling Shoes and get back out there to discover the Lifestyle of the Great in UAE!
I left lovely London three years ago and now I'm back and continuing my Style journey from delightful Dubai, the land of the best and beautiful.
I am beginning with one of my favourite Beauty Brands 'L'Occitane En Provence'. I'm honoured to be invited to the Official Launch of their new fragrance – Oud and Rose.
Tonight I'm setting off to Jumeirah Beach Hotel at Cove Beach, i couldn't have wished upon a more perfect venue in Dubai, just breath taking!  Now the invitation says 7:00pm but is that Western time or Dubai time, I know that Dubai takes the term 'fashionably late' seriously.
So reach just before 8':00'ish.
So, I arrive 8:00'ish and give my car to the valet, and as I step out I'm greeted with hottness, not visual to the eyes but a humid 38 degrees celeius degrees, thats the main difference from London. I am sunshine lover but really by the time i walked to the venue which a mere couple of minutes Ive melted. Oh well, what can we do, just suffer and sweat whilst we pass the breathtaking Burj Al Arab.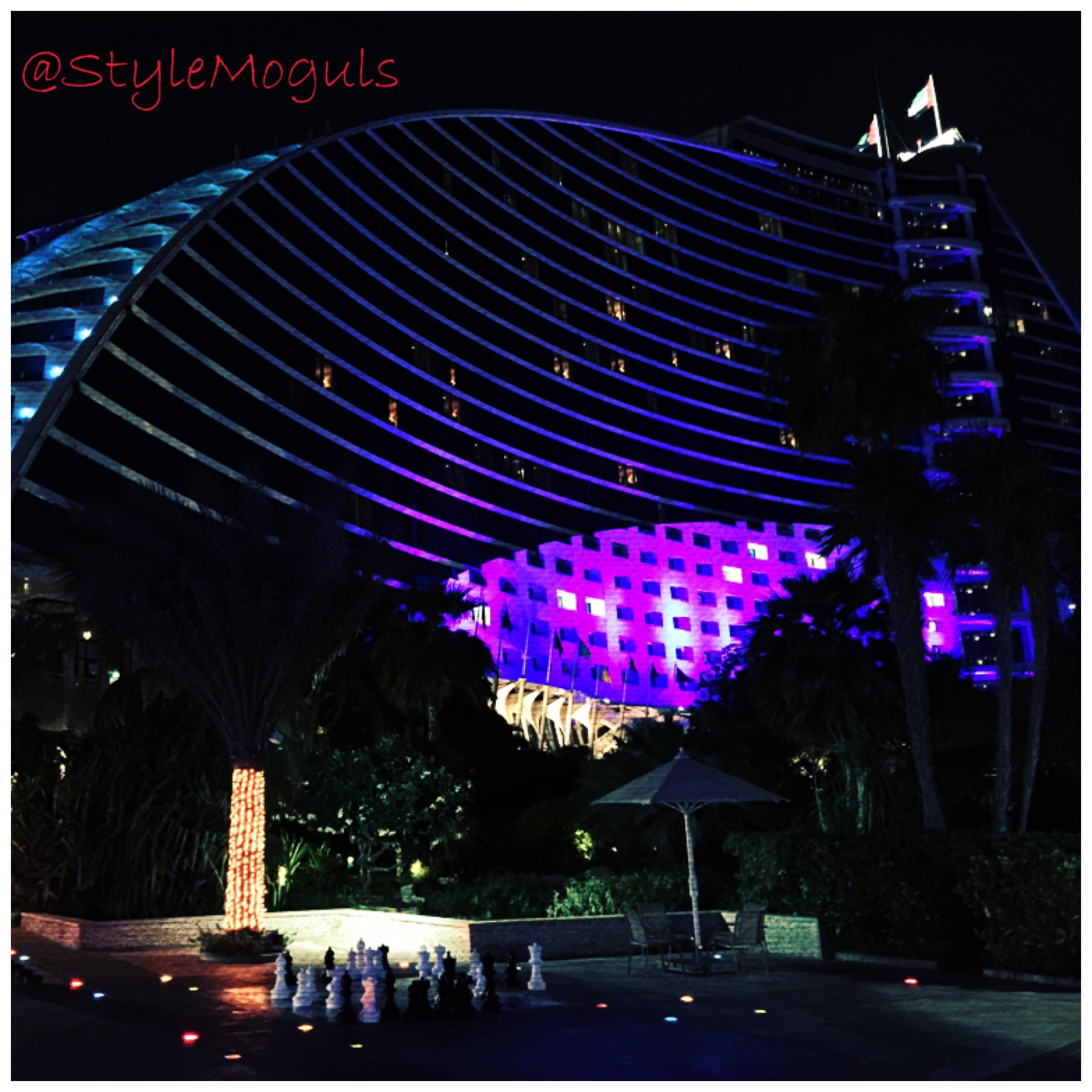 I enter Cover Beach and am received by lovely hosts dressed in white, white and gold the theme to tonights launch. It seems I'm not late at all, so before i get my cocktail I dash to the ladies toilet to freshen up.
I re-join the party and do some mingling. Its a pretty venue that matches their launch and fragrance very well,
This launch seems to have some fun activities going on, in left corner we have fresh flower head pieces, and henna painting,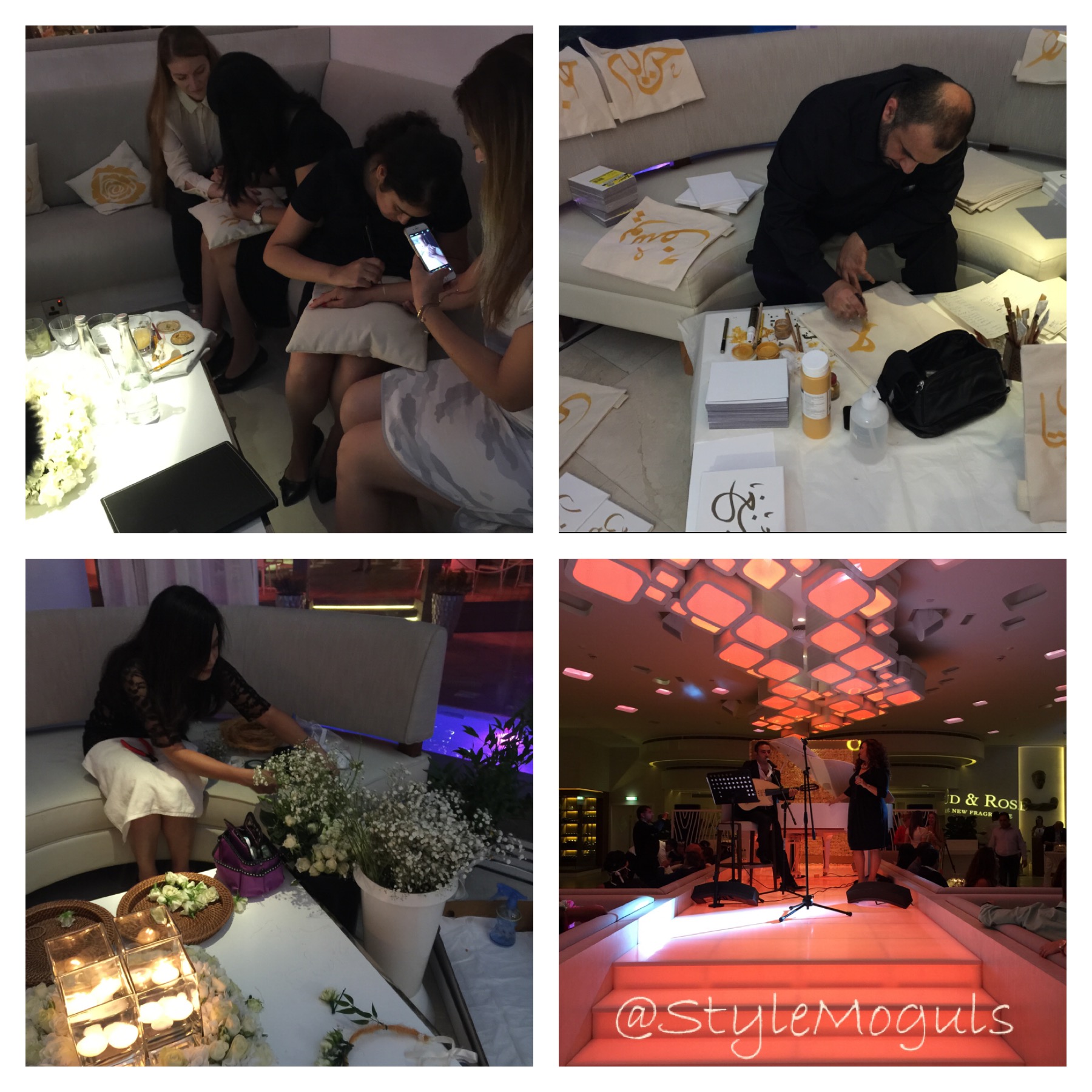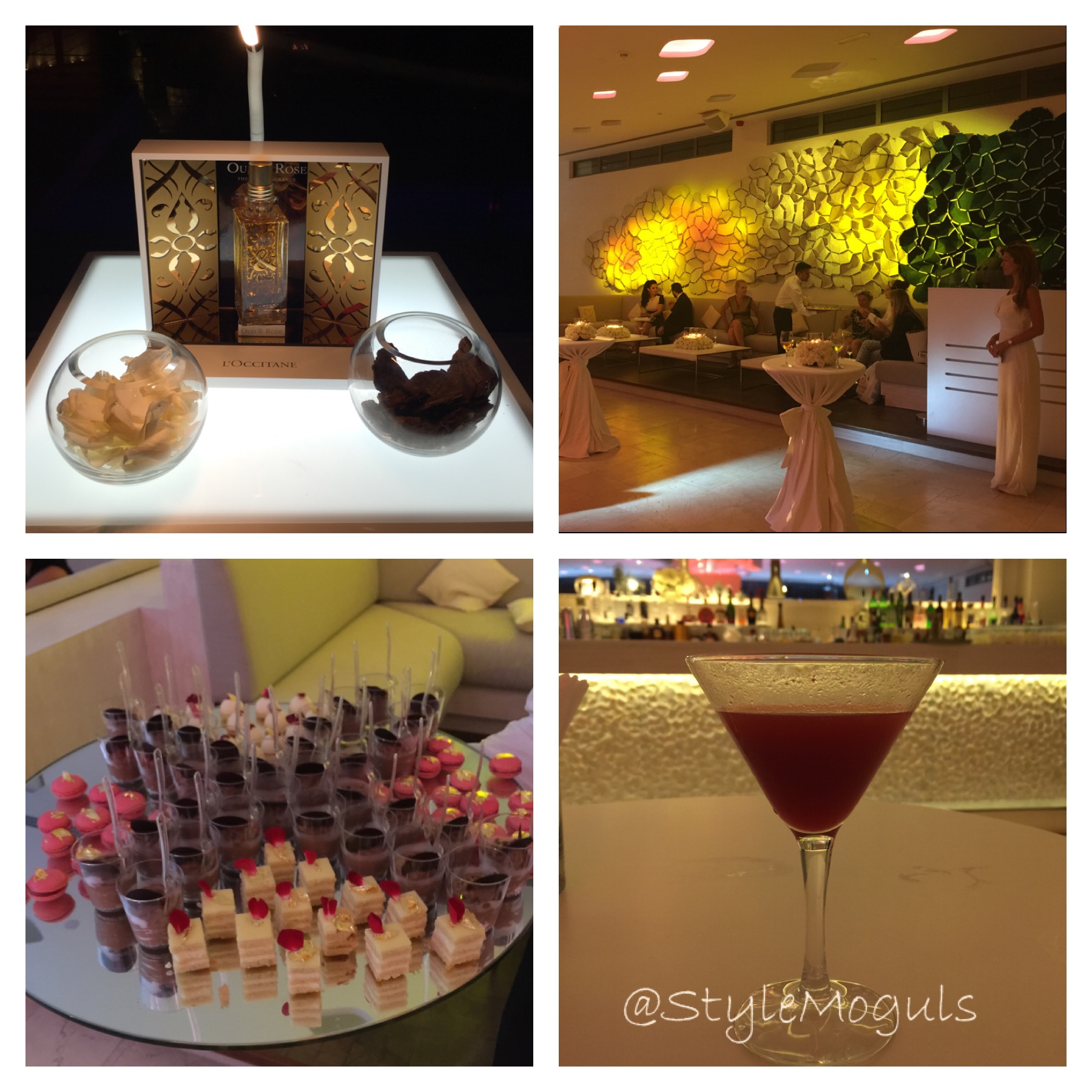 Ad in the right hand side of the room – Calligraphy Art – seems to be a big queue, arabic writing on canvas and cushion covers, i selected a pillow case and decided to get my husbands name written it. There was a 45 minute wait so I continued to carry on mixing.
Creative bunch of people, creatives, professional, media,
I must comment on the band, it was fabulous , now i can pick up some odd Arabic words but even though I didn't understand the melody and voice was soothing, they played in the background entertaining us, especially flown in from Lebanon to perform for this launch and what a wonderful feature.
In the background the band was playing, subtle but sweet music lightly playing in the background.  My Arabic is not good, I'm still learning but even though I didn't understand the words i really enjoyed the music. 
It was a wonderful launch, subtle and sophisticated, truly feeling the fragrance. With Eid-Al Adha coming up next week, this Oud and Rose new fragrance would make a wonderful gift for the ladies in your life. I ended the evening with gorgeous goodie bag.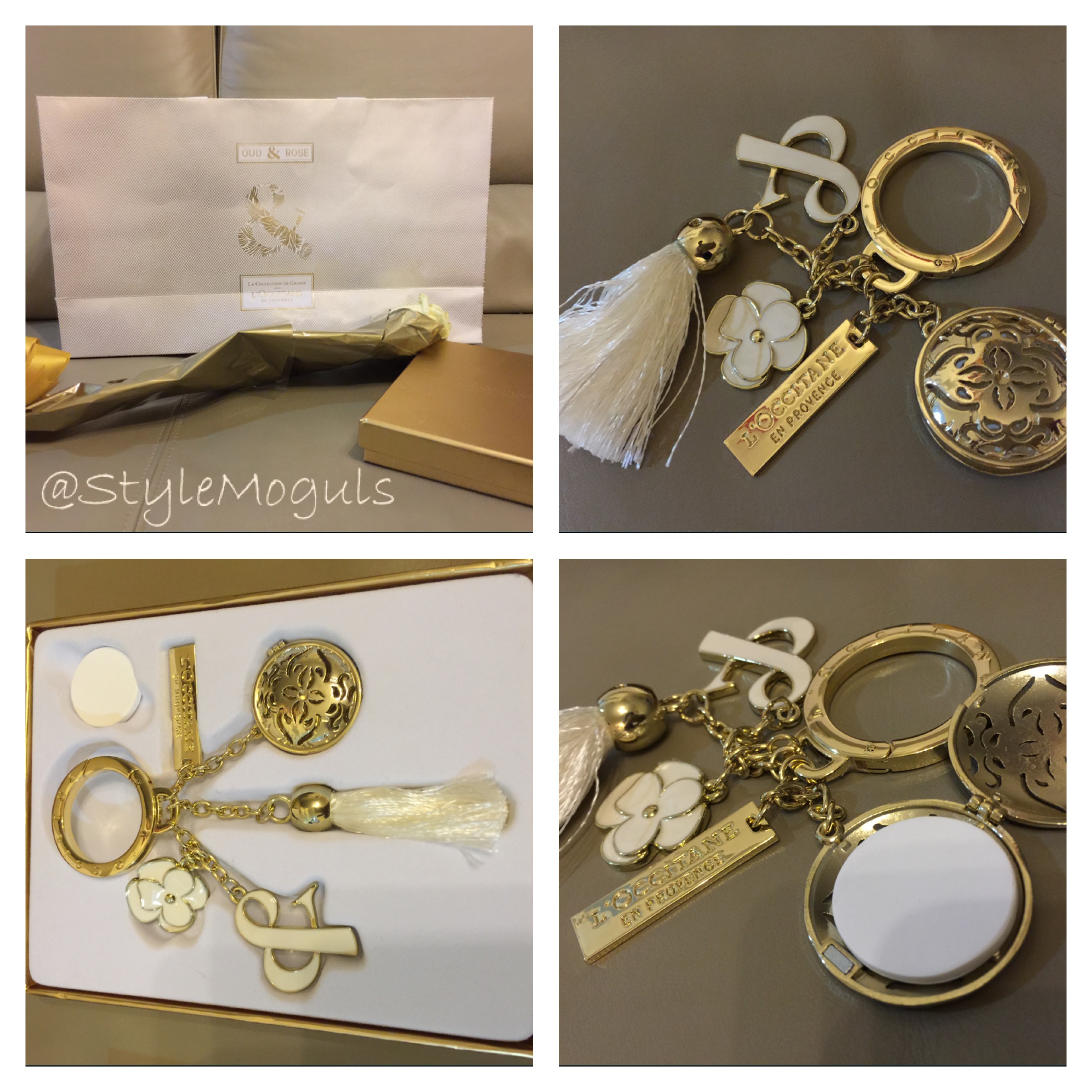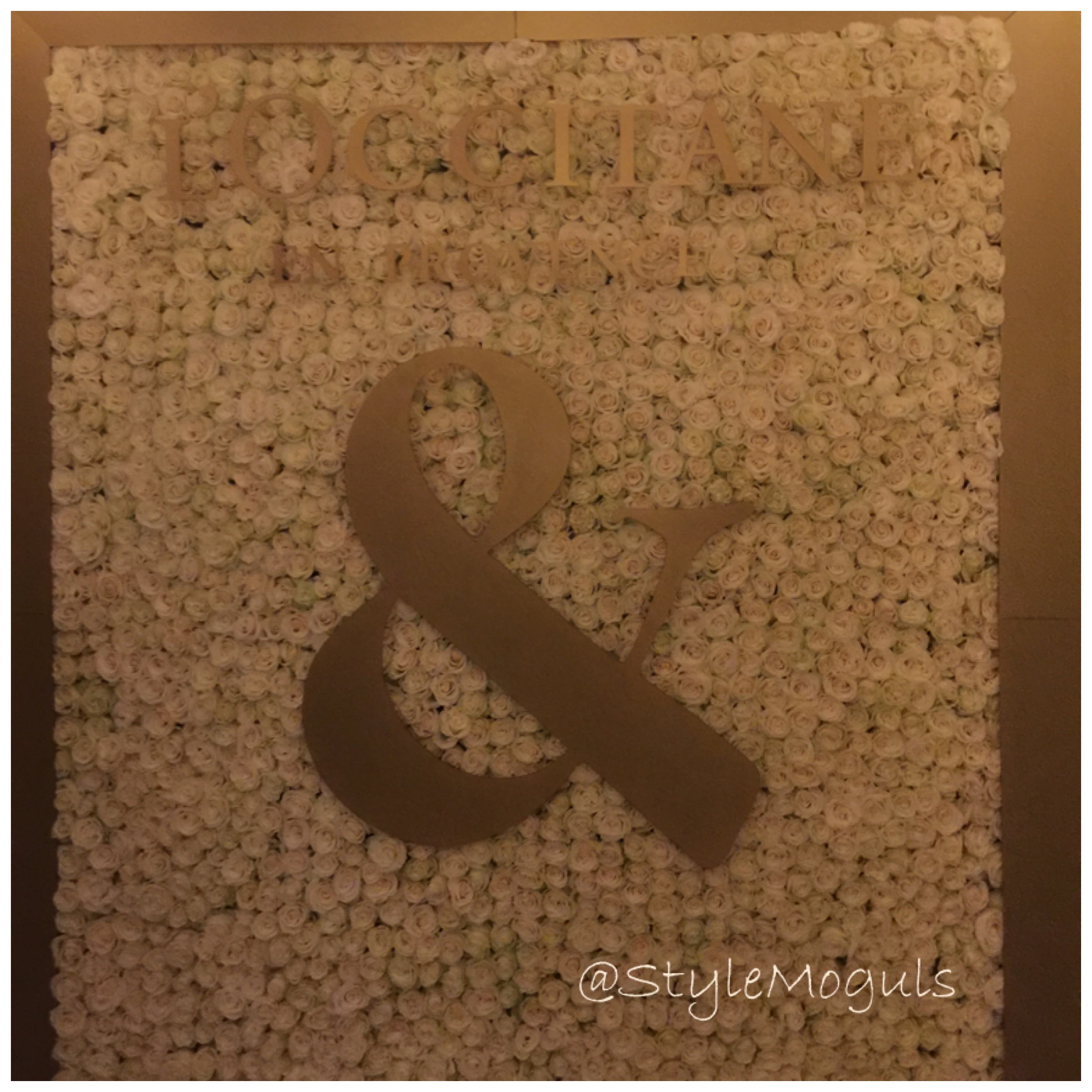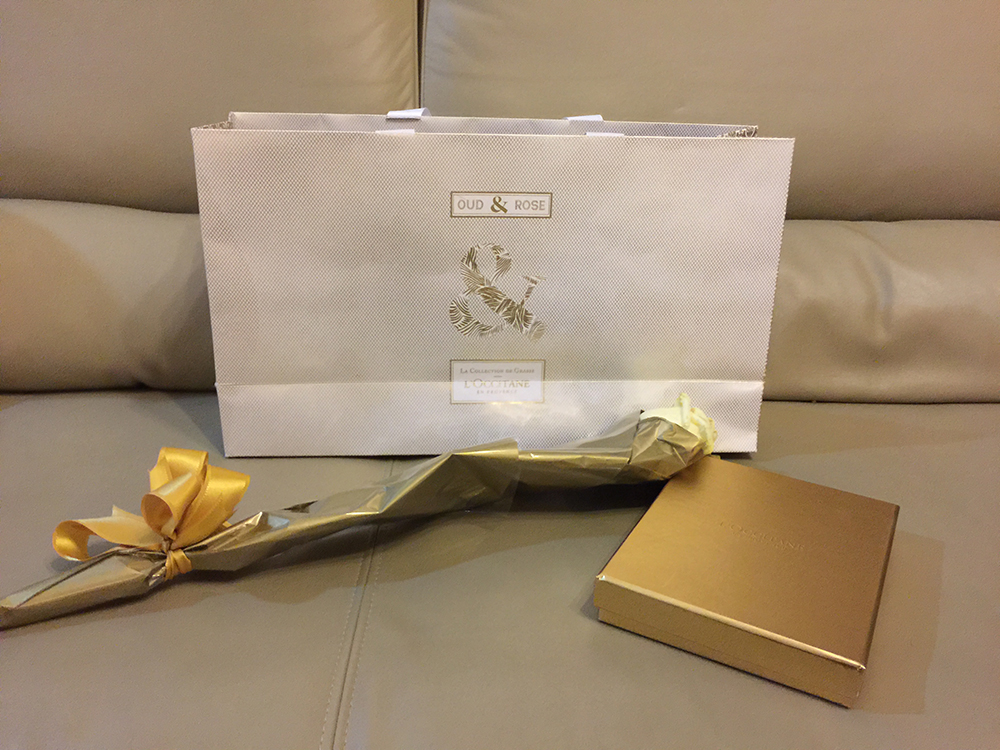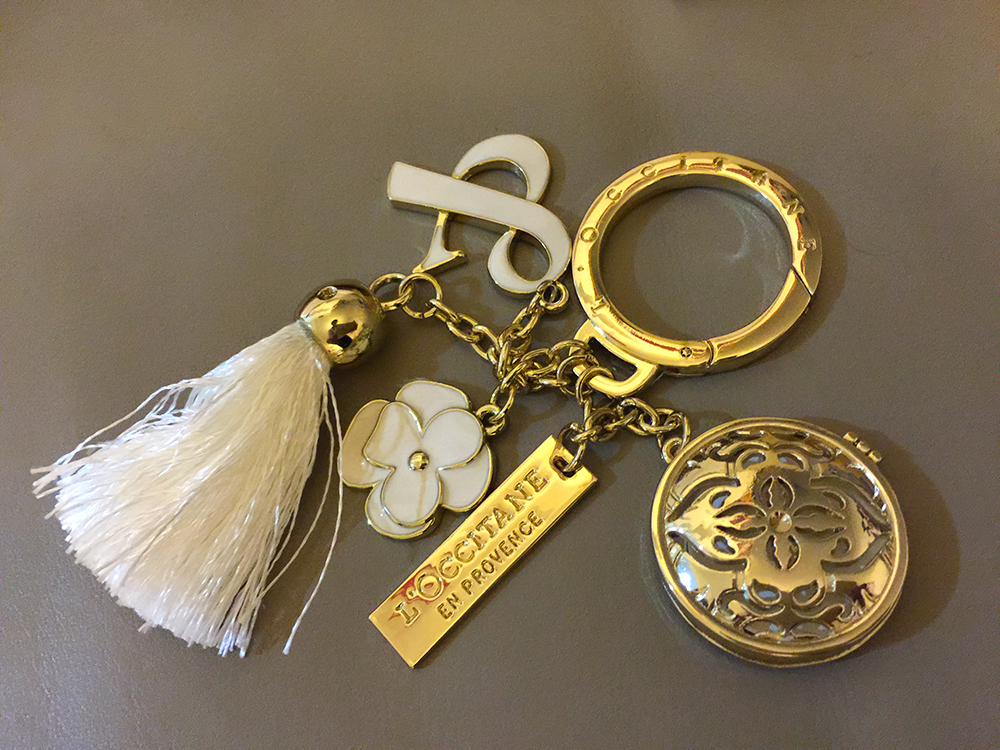 As i walked to my car I compared this launch to one of my London Mayfair events. Both London and Dubai are stylish and sophisticated but i would say Dubai has its own flavour, Dubai oozes opulence and quality. London steeped in History and Dubai is creating History.
As i kicked off my heels and dived on the sofa i indulged in my goodie bag, a beautiful white rose, and inside a L'Occitane Key chain, i love this fragrance keychain, its a great feature part of the Oud and Rose gift pack, basically you spray the white tablet with perfume so you smell of Oud and Rose everywhere you go. The only downside for a fragrance launch there was no fragrance.
This is why people fall in love with Dubai, so come and join me, lets fall in love with Dubai ! 
Until next time
Stay Stylish !
xxx